Yesterday was International Women's Day, a global holiday dedicated to inspiring women and celebrating their achievements. In honor of In...
Yesterday was International Women's Day, a global holiday dedicated to inspiring women and celebrating their achievements.
In honor of International Women's Day, our Executive Director spoke at the Wo/men's conference at St. Mary's College in Moraga. When people think of the issues associated with factory farming, animals are usually the first to come to mind. Thus it may come as a surprise that there are a number of potent ways that factory farming affects women and women's rights.
Female Workers
Slaughterhouse workers face one of the most dangerous and disturbing jobs in the country. In addition to the fast-moving production lines, large kicking animals, and deadly sharp blades, women at slaughterhouses and rendering plants face an additional hardship: sexual harassment and assault.
Many workers are undocumented and underage, so it is particularly difficult for them to speak out against the abuse. The experience of Quendi Garcia, who worked at a meatpacking plant in Iowa, is unfortunately representative: "Garcia said her supervisor at Agriprocessors had touched her inappropriately and tried to coerce her into having sexual relations with him using the threat of job loss." To learn more about Quendi and the hardships faced by underage and female slaughterhouse employees, click here.
Families
The partners of male slaughterhouse workers and female community members also suffer as a result of slaughterhouse work. A 2009 study found that slaughterhouse workers employees were more likely to be arrested for domestic abuse, sexual assault, and rape. It is thought that the increase in violence is due to the psychologically traumatic and violent nature of slaughterhouse work. Read more about the study here.
Women's Health
Factory farming also has broader implications for women's health. As we wrote about previously, many dairy products come from cows given bovine growth hormone, also referred to as rBST. Milk from cows given rBST contain higher levels of pus, antibiotics, and the hormone insulin-like growth factor 1, or IGF-1. Over 3 dozen studies have shown a correlation between high circulating IGF-1 levels and cancer risk, including one study that found that women with high IGF-1 levels are 7x as likely to develop breast cancer. Another recent study found that people who eat diets rich in animal protein run the same cancer risk as people who smoke 20 cigarettes per day.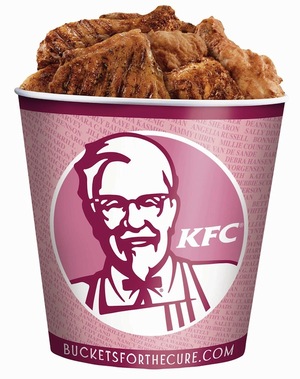 Despite the direct threat that certain food products post to women's health, many companies specifically market those products to women by exploiting concern about women's health. "Pinkwashing" refers to corporations that exploit the pink breast cancer ribbon in order to sell products, many of which contain chemicals and compounds that can actually cause breast cancer, such as bovine growth hormone. Breast Cancer Action has a guide to Pinkwashing, as well as many other women's health resources.
The Good News
We all have the power to help women through our daily food choices. By boycotting harmful animal products and instead choosing healthy, humane, plant-based foods, we can improve the health of ourselves and women around the globe. Visit Choose Veg to learn about easy and delicious ways to rethink your diet.
---
Share
Do you like this post?
---